Mountaineer, Speed ​​Hiking, Paragliding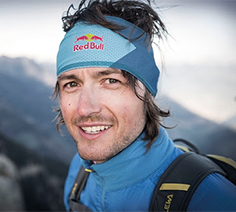 <<You pass over a glacier and below you the power of an avalanche explodes. Two eagles decide to share a thermal with you, the current of air takes you to altitude. Sfiori the Brenta Dolomites. Emotions that football will never give you.>>
Extraordinary athlete always ready to challenge himself, discover his limits and ... overcome them.
Challenge, skill and passion.
Biografia
Born in Merano, Alto - Adige Südtirol and raised surrounded by mountains. His father is a paragliding pilot and it is thanks to him and with him that Aaron approaches paragliding for the first time at the age of 6. At 15 he starts flying alone.
Alongside his passion for flying, he combines skiing, another sporting activity that he practices from an early age and which he will teach during the winter, becoming a fan of ski mountaineering.
His greatest desire is to enter the list of the best paragliding pilots in the world and compete in the World Cup. In 2012 he wins his first World Cup.
The search for a new perspective: looking at everything from above just enough to see the world in a different way. Fly above the treetops, skim the walls you have just climbed or are yet to tackle.
His biggest goal is to become the best in his specialty. And to do it while having fun.
Carriera
His passion for paragliding drives him to prepare hard for two years in a row for the Red Bull X-Alps 2013 (cross country endurance race combining paragliding and racing), where he was one of the three Italians to participate (out of 32 in total), and who finished in seventh place. In 2014 Aaron finished third in the Red Bull Dolomitenmann (paragliding section) and reached the second position X-Pyr.
In 2015 it ranks in sixth place in the Red Bull x Alps , in second place in the Red Bull Elements (paragliding section) and still second place as squad.
In 2016 he completed another extraordinary adventure: he crossed Bulgaria in "hike & fly" - therefore only walking and paragliding - covering a distance of approx. 620 kilometers in just eight days. Not only. Second place in the Red Bull Dolomitenmann (paragliding section) in Linz, Austria, and second place as a team, second place in the < strong> Red Bull Éléments (paragliding section) and second place as a team and third place X-Pyr and all ' Italian Open.
In 2017 he won the first World Paragliding Cup in Brazil and later also the 2017 edition of the Red Bull Dolomitenmann , he won the Alpen Cup , is first in the world ranking CIVL , second in the Winter Cup and third in the Monte Grappa International Trophy .
In 2019 it ranks ninth in the Red Bull X-Alps.